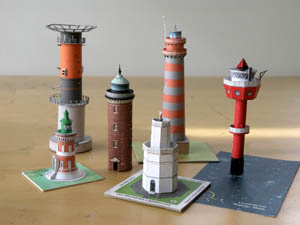 From left:
The small "Pingelturm" (Imogen Stowasser),
my own Almagrundet (Bildrum),
Cuxhaven (scaled down Schreiber)
Old Mumbles (David Hathaway)
neuer Arkona (Scheuer&Strüwer)
Tegeler Plate (Hamburger Modellbaubogen)
Många modellbyggare håller sig gärna till en och samma skala för att lättare kunna jämföra. I Tyskland är 1:250 särskilt vanlig bland dem som bygger fartyg i papper. Personligen tycker jag bra om den här mindre skalan eftersom också mina byggfel blir mindre.

Many modellers want all their builds to the same scale. A popular scale among ship modellers in Germany is 1:250. What I like with this smaller scale is that also my building faults gets smaller.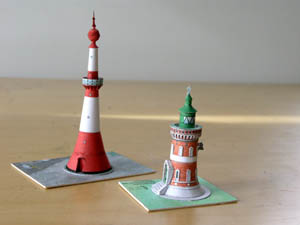 Imogen Stowassers små modeller i 1:250 är lika detaljerade som vore de i 1:100, men är ändå inte omöjliga att bygga. De har också en god grafisk kvalitet på gränsen till vad datorer klarar av.

Imogen Stowasser details her 1:250 models as were they in 1:100 but without making them impossible to build. The graphic design is of high quality and on the edge of what can be computer printed. Small models, great to build.

Bremerhaven "Minarett" & "Pingelturm"
Kartonwerft, www.kartonwerft.de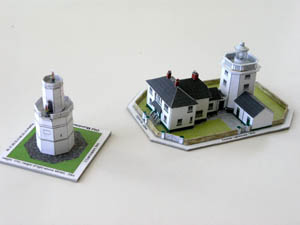 David Hathaways karismatiska modeller är grafiskt enklare. Fyrarna får i stället uttryckskraft av inre massa genom papprets plastiska uppbyggnad lager på lager.

David Hathaways charismatic models are graphically less complicated. Instead they get their expressive character from the plastical building of paper layer on layer. They give a good feeling of content and mass instead of just printed skin.

Old Mumbles & Cromer lighthouses
Paper Shipwright, www.papershipwright.co.uk